Links to:
---
I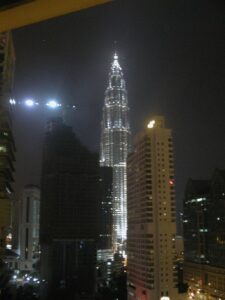 n 1995 my wife Noelene and I lived in Malaysia whilst I was working for our company there to establish a technical centre, equip it and employ and train the staff. I'd done the same thing in Japan earlier the same year and our stay in both countries was a wonderful revelation for the both of us. In KL we lived in the ex-patriate land of Damansara Heights but loved to get out and about, especially when we had free weekends. Because it's generally cooler as you ascend the hills we visited most of the easily accessible highland areas including Genting Highland, Bukit Larut (Maxwell Hill), the Cameron Highlands, where we spent a delightful Christmas and, of course, Bukit Fraser or Fraser's Hill.
At that time we were only able to make a day trip to Fraser's Hill and I had always hoped to return one day, because it's such a beautiful and charming place and about 10oC cooler than the tortuous heat and humidity of Kuala Lumpur. Also, there was good walking to be had, or so I was told!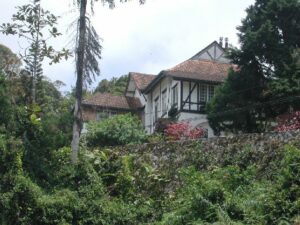 Once a year I attend our company's Regional Business Meeting for the Asia-Pacific region, usually held in or near KL and I follow this with some technical visits to our most important or developing Malaysian customers. As I had nothing planned for Friday 18th March and since the Malaysian F1 Grand Prix was being held that weekend, I decided to "get away from it all" and spend a few quiet days at Fraser's Hill, simply taking it easy and doing a "bit of walking", for which I'd brought some basic gear with me, including the all-important Brasher boots. I had found the charming Old Smokehouse Hotel, with its wonderful "olde worldy" British colonial charm, on the internet and it seemed to be just the right thing.
First of all, though, a bit about Fraser's Hill
Fraser's Hill (taken mostly from Wikipedia)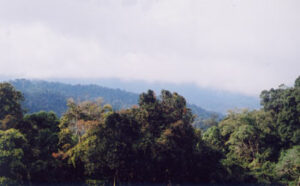 Not too far from the sweltering heat of KL, lies an ethereal land high above the sea – peaceful and calming. Morning dew settles on the fronds, reflecting rainbows of the sun like windows on soap bubbles floating on a breeze. Low, lingering clouds envelop the rolling hills sweeping in chilly air and thin frail mist in the wee hours of the morning.
About 103 km from Kuala Lumpur is an area of seven hills originally named Ulu Tras just coming down the Titiwangsa Range. This range is the backbone of Peninsular Malaysia which runs from the Thai border all the way down south, ending in Negri Sembilan rarely dropping below a height of 1000m.
Louis James Fraser's Hill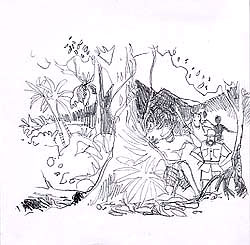 Some hundred years ago, when the hills and mountains on the Titiwangsa Range looked too daunting to contemplate climbing even by the British army, Scotsman Fraser was already recruiting a handful of guides and coolies to take him on his expedition to explore the upper ridges for gold and other precious metals. After hacking his way up the last 300m (height) to the top, he came upon an enchanting forest in the clouds. The moist environment creates a sublime forest of moss-draped trees and filmy ferns. The forest looks prehistoric, feels prehistoric and even smells prehistoric.
After years of providing a mule transport service between Kuala Kubu Bahru and Raub, Fraser finally found a home, 1524m up a hill and away from the gossipy colonial community down below. The reclusive Scotsman travelled to Australia in search of gold at the peak of the gold rush and yet some change of destiny brought him to Malaya.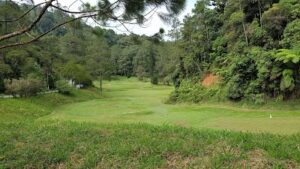 Perhaps the same dream of striking gold in these hills was the reason for his coming. Gold he didn't find but instead he found rich tin deposits. He stayed on and opened a mine in the 1890's employing Chinese miners to work the area. The tin ore was then transported down a perilous route on mules, winding down the side of the range to the nearest town, Raub. To lift the spirits of his Chinese workers, Fraser operated an opium and gambling den at the camp. This shrewd method of retaining his wealth certainly worked well. The wages paid out to the coolies would more often than not find their way back into the Fraser's ledgers through these dens.
Despite his newfound wealth and status Fraser mysteriously disappeared without a trace some 25 years later when he went for a walk not far from where he had made his home. He left behind everything he had worked hard for over the years.   A search party was sent by C.J Ferguson-Davie, Bishop of Singapore to look for him. The camp and mine were found deserted. They never found Fraser. Instead they discovered the perfect place for a hill station – a retreat from the heat of the lowlands. The British authorities had always been fond of hill stations where they could build little villages reminiscent of those in their beloved homeland.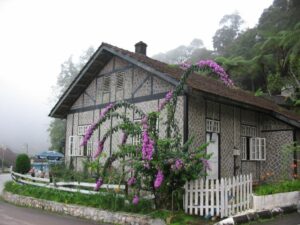 Besides, the ongoing war in Europe had made it difficult for these expatriates to go home on leave. Upon his return to Singapore, the Bishop wrote a report to the government indicating that Fraser's Hill was ideal as a hill station for it could cheaply and quickly be developed. In 1919, work started on the access road to the hill station from the Gap and by 1922, the hill station named Fraser's Hill was opened to visitors. It covered 140 hectares of land and had over 50km of jungle paths. In a 1927 "Handbook to British Malaya", it mentioned that there were 9 government bungalows for the use of government officials, 4 houses built with the help of Red Cross for ex-servicemen and women, 3 private homes, a "country club", a golf course, and water supply was complete and of course a post office.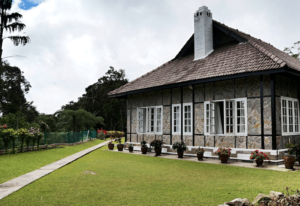 Fraser's Hill still retains its old colonial charm and should not to be missed. It is almost as if time has stood still for the 1,000 or so residents. They go about their same old ways throughout most of the week, waiting for the weekend to bring in a trickle of guests and visitors. Most of the old stone cottages previously owned by colonial traders have withstood the weather well. In the years of the British Empire, the British families retreated to the cool hill stations during the hot seasons. The cottages here resemble those found in their English villages, equipped with a cosy fireplace and meticulously cared for garden plots. An afternoon of croquet with friends was followed by afternoon tea and evening cocktails.
Hainanese people were employed to run their kitchens and to maintain the cottages when not in use. The Hainanese are a group of Chinese people who originate from Hainan Island in Southern China.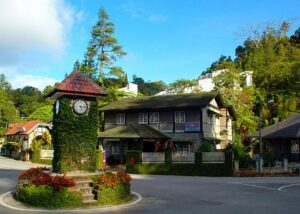 They were taught to cook English cuisine and serve it the English way. Fiercely loyal servants, the Hainanese remained in their employment until the British finally departed. Out of employment, these people later opened the now famous coffee shops found in KL and other cities. They continued to practise their culinary skills passing on their expertise to their next of kin. A few families remain in Fraser's Hill maintaining the traditions of providing exquisite service and excellent English fare.
This hill station was also built for another reason.   The British army believed that there should be a place for their injured soldiers to convalesce.   The Red Cross set up a little rehabilitation centre there. It has been converted into a hotel called "The Old Smokehouse". Instead of hospital bunks, the interior is now decorated with eclectic furniture and collectibles, some of which seems to be leaning a little toward bric-a-brac items. With open wooden beams, log fires and lithographs of the old Fraser's Hill, the place exudes fading elegance. English tea and scones are served on the patio or in the restaurant. The rooms, each with its own with individual characteristics, are worth a stay in, if only to experience a little of the past.
---
Friday 18th March
I arrived at The Old Smokehouse, having been chauffeured from the Hyatt Saujana Hotel at Subang, close to the old KL International Airport and was quickly impressed by the hotel, its surroundings and the coolness of the climate. I walked into the small town, got a sketch map of the area, showing some of the walking paths (none of them much more than 1 km), had some rather nice spicy noodles and a drink for lunch and had a general look around. There were several large maps of the area on billboards and on one it showed a walking path going off to somewhere called Pine Tree Hill, with the legend "4 hrs". That seemed like a reasonable walk and I decided that it would be the "long one" for me the following day.
I was only able to obtain a very sketchy, one sheet of photocopied A4, type of map of the area but it seemed sufficient as I was assured that the routes were well signposted. During the afternoon I walked the Abu Suradi Trail, the Henmat Trail and the Bishop's Trail. I walked down to the Jeriau Waterfalls, unfortunately only able to be accessed by walking on a road. There and back it was about 8 kms and the falls were small but quite lovely and I sat for some time watching a couple of Malaysian families picnicking and their children splashing, swimming and generally having a good time in the slightly silty waters of the outflow. A couple of the other walks were closed and I thought that I'd leave the rest until Sunday morning, leaving myself plenty of time for a slow relaxing plod to the top of Pine Tree Hill and back.
I spent the rest of the day sitting around and doing very little at all, apart from reading the book, "The Salterton Trilogy" by Robertson Davies (excellent and highly recommended); it was wonderful, all that I had expected from my weekend of R&R. Later I walked down to the village again, bought a MR 10 phonecard and called Noelene from a call box, as the hotel had no phones in the rooms, came back and lay on the bed, reading, relaxing and marvelling at being able to have the window open in Malaysia, with no all- dominating air conditioning, listening to the noises of the monkeys, birds and cicadas.   In the evening I ate in the hotel restaurant, very quaint, very English and with excellent roast lamb, complete with mint sauce and all the trimmings. In contrast with the traditional British way of cooking vegetables, when they are usually boiled to within an inch of their lives, these were perfect too.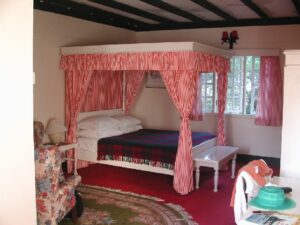 I talked to the hotel Manager, Soe Naing Aung, about my experiences of travel, how much I liked Malaysia in general and Fraser's Hill in particular. He told me that Richard Attenborough and a BBC Wildlife TV crew had visited recently. Apparently, a family of spiders, very similar to Tarantulas, had been found close to the hotel, a species previously known only as 14 million year old fossils; I was impressed. So there were Tarantulas in these here parts; interesting, I thought!
I went to bed early, read a little and looked forward to my longer walk the next day. In the night a wind came up; I actually had to reach for an extra blanket and close a few windows.
---
Saturday 19th March
After a good night's sleep I had a light "English" breakfast of fruit juice, croissants, toast, home made jam and marmalade, washed down with a couple of cups of good strong Malaysian coffee. I eschewed the "full English" breakfast of sausage, eggs and bacon, etc. After all I'd be back in time for a late lunch and another large meal that evening.I set off from the Old Smokehouse Hotel on the short forest walk to the top of Pine Tree Hill about 5 km away, leaving at around 10:30 and expecting to return approximately five hours later. It's interesting to reflect that the sequence of fives continued: the walk finally took me five days! As the path was supposedly well marked, the weather was warm and dry and no untoward hazards were expected I didn't think to take a great deal with me; just a rucksack with one and a half litres of water, a camera (of course), for some unaccountable reason a sweatshirt and a pair of long trousers, a three quarter full toilet roll (well, I am British after all!), my wallet, a small towel stolen from the hotel, spectacles, (unknown to myself then) my Maglite torch, and, most importantly as it turned out, my mobile phone. For food I took what had been left in the hotel room's complimentary bowl – an orange, an apple and a small packet of three shortbread biscuits, plenty of food for such a venture. Crucially I didn't have a map (there were none available) and didn't think to take my compass. I was wearing my Rolling Stones 2003 tour tee shirt, shorts, 1,000 mile socks and Brasher walking boots. Oh, and my Cambridge Folk Festival green hat!
The path was indeed fairly well marked (to start with, at least) and I ascended to a clearing with   the Selangor/Pahang border marked by a white stone, similar to a UK trig point. It took a while to find but I discovered the uphill path and continued towards the summit, passing a number of small shelters, inside one of which was a very large and fine looking moth. I passed a commune of termites moving material from one place to another in one of their typically regimented lines and carried on upwards with the path still marked by "AWAS" (caution) tape on poles, occasional markings on trees and, now and again small brick-like concrete posts in the ground. But there were many paths going off at some pretty strange angles.   Nonetheless, if you're going to the top of a hill and continue in an upward direction, you're bound to get there, aren't you?
During the ascent I passed a number of signs giving the kilometre countdown to the top and finally reached what I believed to be the summit. I spent a few minutes there, took some panoramic photos as Bukit Fraser could be clearly seen some distance away, it was the only one on which there were any sort of buildings. Remembering the heat, humidity and strenuousness of the climb I was drinking plenty of water but I still had more than a litre left.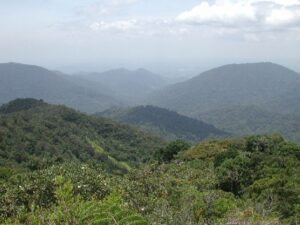 I started downhill at about 13:30 and quickly found what I thought was the right path, it twisted and turned rather a lot and there seemed to be an absence of AWAS stickers, signs and markings, but I was going downhill, so that must be right, mustn't it? Actually, I began to be a little unsure of the route, so I backtracked, left a marker and tried again. I did this about three times before shrugging my shoulders and continuing down the descending path. Gradually the path petered out ending on the top of a cliff with a pretty long sheer drop. What to do? Well, of course the sensible thing would have been to have spent an hour or two to climb back to the summit, phone for help and wait there to be rescued. But hey, I've walked the Pennine Way, Offa's Dyke Path, done the Yorkshire Three Peaks in 8½ hours; I could find my own way. Looking back, this was my near fatal mistake.
Well, if there are no paths you can make one for yourself. So I headed downhill and it quickly became steeper and more and more overgrown, but I continued. Thorn bushes, the bane of my life in the days to come, ripped at my arms, legs and clothes, the undergrowth became more and more dense and the trees closer and closer together. A general gloom descended, despite the bright sunlight above. After a while I reached a stream and I remembered the tale of a young British girl, who had become lost descending from Mount Kinabalu, had followed a stream down and had safely reached a village and rescue. That's what I would do.   I followed the very small and shallow stream by simply walking in it. It turned to the left: I've no idea in which direction, as I had no compass, but as it joined other streams and became larger I thought it might be the river that fed the Jeriah Waterfall at Bukit Fraser that I'd visited the previous day.
The stream became deeper and wider and to keep my feet fairly dry, I took to the bank from time to time, only entering the water when the forest became impenetrable. On the banks the foliage was green, rich, very dense; difficult for the sun to penetrate. Creepers hung down from the trees and with there being no real seasons, the forest floor was covered with damp and decaying leaves; all around were bushes, small and very large ferns and occasional clumps of bamboo. The bamboo seems to fall over when it reaches a certain size and, until it begins to decay, presents a formidable barrier to the progress of a weak, stupid white man.
I was spending more and more time in the water sliding over the slippery rocks, taking the occasional tumble and beginning to feel rather battered and bruised. I was down to about ½ litre of water and it was getting towards five o'clock. I had the growing realisation that I might not make it back to the good Old Smokehouse tonight and that filled me with dread. I'd never slept in the open air before, except the wimps' way with a large sleeping bag, tent, cooking stove, pots, pans, lead cut crystal glasses, fitted kitchen, bathroom, toilet, shower, camp site shop………… I fell several times and hurt my left thumb pretty badly with blood mingling generously with the water and lost the precious hotel towel; how useful that would have been later. Then I cut my right middle finger and had difficulty in stemming the bleeding. The light was beginning to fade, I was very wet, battered, bruised, scratched and bloodied and I needed to find somewhere to stop for the night.   Round the next corner was a small sand bank on the right hand side, sloping towards the water's edge with the sides of the river rising very steeply up for further than the trees would let me see. So I cleared the stones as best I could, gathered leaves to hopefully keep me and the wet sand apart, removed my wet boots, socks, shorts and tee shirt, hanging them on branches to dry overnight. I put on my sweatshirt and long trousers, ate a very bruised apple and orange, drank some water and, as the light faded, lay down on my leaves, using the rucksack as a pillow, exhausted and hoping to sleep. I'd been walking for nine hours, but I'd done more than that before although, admittedly, over rather more friendly terrain.
Of course, as it became darker it got colder and the noises of the creatures of the forest became louder and louder, making me appreciate how relatively quiet a place it is in the day. I suddenly realised that I was alone, no-one knew where I was and I had no way to contact anyone. I didn't even bother calling for help as I knew there would be no-one nearby. I didn't sleep. My feet were freezing cold, my injuries were bleeding, my bones were aching and I was thoroughly miserable in this lonely, noisy place. I put on my wet socks and put my feet in my hat inside a Morrison's carrier bag, hoping that they would warm a little, but to no avail. I found my torch and furtively shone it into the trees, hoping to catch sight of whatever creatures were making the abysmal din, but seeing none; I shivered and shook, both from cold and fear and, in the absence of sleep, decided what I must do the next day.
The Malaysian night is about 12 hours long and those are very long hours indeed when you have no control over your circumstances. I probably slept for around three hours altogether, worrying about Noelene, who would be expecting me to call her and wondering how I was going to get out of this mess that I'd got myself into. I decided to try to climb to a place where I could get a mobile phone signal, call Noelene and ask her to summon help.   I would be rescued on Sunday, manage to get back to KL in the evening and be in time for my customer visits on Monday morning. That was settled, then!
---
Sunday 20th March
In the morning I examined myself and was alarmed at the state of my body.   My arms, unprotected by the Rolling Stones tee shirt, were badly scratched and covered with dried blood, my hands were like pin cushions from thorns, most of which I couldn't remove, and my legs were in an apparently worse state. I was worried that the wounds would become infected and I had no means to cover them.   I filled my two empty water bottles with river water, which I was convinced I wouldn't need, put on my wet pair of second socks, wet boots, kept on my long trousers, packed my rucksack and ate a hearty breakfast of a whole (crushed) shortcake biscuit, washed down with water. I remembered that I'd lost the towel in the stream the previous day but, hey, I wouldn't be taking a bath, would I? I made bandages for my still bleeding thumb and finger with toilet paper covered and tied up with portions of plastic carrier bag. Today was to be the day of my rescue!
Getting to the top of the bank was a rather more difficult proposition: it was extremely steep, covered in dense foliage, obstructed by trees, bushes of all sorts of ferocity, creepers which clutched at my legs and brought me down from time to time. When I did reach the ridge an hour or so later, already pretty knackered, I still couldn't get a phone signal. I had to get higher. In this case, before going up I had to go down, crossing another very small stream and then up again. The down was as difficult as the up, often culminating in a painful slide through those bloody thorn bushes and more than once ending in a painful encounter with a tree on what seemed to be the edge of a precipice.   I eventually reached another high point, had a drink, by now river water which tasted quite okay, and again tried to contact the outside world; once more to no avail. I had to climb down and up yet again and reached a ridge along which, with difficulty I was able to make some progress. In the few gaps between the trees I could make out other hill tops, although none of them were familiar. Eventually I reached what appeared to be a path, followed it around a bend and found a small leafy clearing about 4m x 1.5m and I could get a signal.
I called Noelene and she answered very quickly, despite it being about 4 o'clock in the morning in the UK.   I don't remember exactly how the conversation went but it was a bit like this:
"Hi babes, listen, don't get upset but I've got a bit of a problem"
"Are you alright?"
"Yeah, but I'm not exactly sure where I am"
"What do you mean?"
"Actually, I'm lost"
"Stop taking the piss, will you"
"No, seriously, I'm really lost this time. It's okay, I'm alright, no injuries, apart from a few scratches and bites, bumps and bruises; but I need you to get help for me."
Noelene was terrific. Once she got over the initial shock she set to work putting a rescue plan into operation. I had no phone numbers for any of the Malaysian services; I only knew that I was checked in at the Old Smokehouse Hotel, Fraser's Hill. She picked up their phone number from t'internet, called them, spoke to Soe Naing Aung, the Manager, he contacted the local Polis (Malaysian Police) and a small search party was set up.
One fact was that I had no clue where I was, having already walked for at least nine hours from Pine Tree Hill and, having rescued a few foolish foreigners before, the first search party went looking for me in that area. I was put in touch directly with Durai, the local guide who works for the Fraser's Hill Development Corporation and tried to describe where I'd been. Phone contact was rather intermittent and the link was frequently broken. I spoke to Noelene several times and she was constantly in contact with the Old Smokehouse and Durai.   She contacted the Hyatt Saujana where I was due to stay that night, and who were sending a car to Fraser's Hill for me, to cancel the booking. She tried to phone my Aussie mate Kev to get him to get in touch with people from our company in Malaysia to cancel my Monday business meetings and despite her own, no doubt, low spirits, kept mine up.
As the afternoon wore on my battery started getting low and we resorted to texting and I had to learn the teenager's method of rapid thumb movement pretty quickly! I got a call from Durai to say "Mr. John, can you hear us?" and, via the phone, I could hear people shouting my name. But they were still on Pine Tree Hill. I thought that maybe they'd send a helicopter and felt sure that I heard an engine but it was, I guess, my "mirage in the desert". I was asked to light a fire, using a compass or by rubbing two sticks together, so that my position could be more easily seen but the sun was obscured by trees, I had no compass anyway (almost all map reading compasses, including mine, have a magnifier) and try as I might I couldn't rub hard enough to get the two sticks I found to even get warm. I guess I should have been a Boy Scout. Whilst waiting, and there was to be a lot of doing that in the next few days, I noticed human markings on some of the trees, the first sign of any human activity I'd seen since early the previous day. There were numbers, letters, strange drawings and other marks on the trees, obviously made with knives and, by their state, I guessed several years old at least. I supposed that that was how come there was this small, although very overgrown, path; there had probably been an Oran Asli settlement not far from here in the past and that gave me some hope. Maybe I'd be able to follow the path and find them the next day.
Eventually as the afternoon wore on I came to the realisation that I would have to spend the night on the hill: I would be "The Fool on the Hill" and started to gather leaves to make something approaching soft to lie on for the night. Rather ominously, I had only about 200 mls of water left. Unlike my previous night's accommodation, by the water's edge, I was plagued with mosquitoes here on the hill. This was unexpected as I had always thought that they preferred to be close to water (maybe it's just stagnant water that they like). As it began to get dark the noises in the forest started as the previous night; the whoops, screeches, noises of what seemed to be very large cicadas, bat noises as they flitted in and out of the trees, high pitched bird squeaks and calls and numerous others, making a real cacophony of sound.   At about half past seven I removed my boots and lay down on my bed of leaves, my rucksack as my pillow, for another long and, no doubt, restless night. I sent Noelene one last text and she replied, confirming that the search had been called off for the day but would start again tomorrow with greater resources.
During the day's walk my boots had dried out and when I had arrived on the hill I made sure that my socks were dry; hopefully my feet would be warmer this night. I had to drink some of my water but maybe only 10 mls at a time and as I lay awake in the dark, the moon shining through the trees providing some light, I knew that my priority tomorrow was to get water; without it I wouldn't survive. I lay with my hat on and my, by now very smelly, handkerchief hanging from it across by face, secured by the safety pins I'd found in the rucksack, in an attempt to keep the mosquitoes and midges away. For warmth I kept my hands inside my sweatshirt with the neck of it over my nose and breathed my own breath into it to help warm my body a bit. After two days hard walking, it wasn't a pleasant experience. Worse was to come!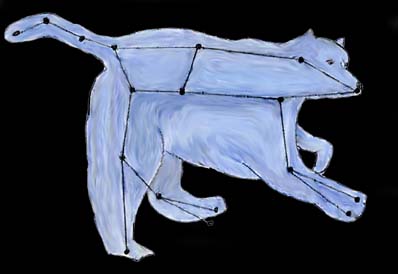 I got up a few times in the night, to do what gentlemen sometimes have to. But with my dwindling water supply I realised that I'd have to save every drop of this "recycled water" for possible emergency use; so into an empty bottle it went! There was a very small clearing very close to where I slept and a couple of times I put my boots on, walked the half dozen steps to it and looked at what stars I could see. I believed that I had spotted part of the Ursa Major constellation (the Great Bear) with its tail forming
the Plough and knew that the position of Polaris, the Pole Star (north) could be found from it. From this I guessed that the hill (actually the end of a ridge) ran east –> west, that north was in front of me and south behind. I could see a red flashing light on another hill top maybe five kms or so distant. I made a note to let the rescuers know about this. Maybe it would help them position me.
Monday 21st March
It's not a surprise that I slept very fitfully, shivering much of the time but dry nonetheless and my feet were much warmer than they had been the previous night. It's untrue to say that I woke with the dawn because I was way ahead of it. But I rose as the sky became lighter to my left, to me confirming my suspicion that the hill with the red light had been to my east. I contacted Noelene and she and I texted each other a couple of times. I explained that I must head downhill, find a stream and get water but that I wouldn't do so until she had spoken to the rescue team. Within an hour she had contacted them and I sent:
"Gone for h2o. Will return here or another place where fone works. Saw red flashing light on hill some km maybe to my E. Pls tell rescuers. Also tell Brit. High Comm. in KL. I love U"
After a while the reply came "Told embsy + rescue. Rescue starts half hour. They want u to stay by stream + wait 4 them XXX"
I'd heard that it's possible to pinpoint someone via the mobile phone system so I asked Noelene to request the rescuers to contact Maxis and Celcom, the two providers whose systems I was using, in the hope that they would be able to locate me. Maybe the Malaysia mobile phone system doesn't have that facility or perhaps they never tried it because this was an avenue that also didn't seem to lead anywhere (although I found out later that the British High Commissioner had personally spoken to the Managing Director of the largest of the Malaysian providers about trying this). A bit like most of the paths I'd followed!
I set off, tried to photograph where I'd stayed, but the camera had got wet the previous day and wasn't working. I walked ahead on what seemed to be a proper path, heading slightly downwards through the undergrowth but quite quickly the path began to rise again and became harder and harder to follow. I left markers to remind myself where I had been (simply two crossed pieces of wood propped against a fallen tree, bush or on the ground).   Eventually the going became impossible and I ran into the same awful thorn bushes as the previous day. The temperature began to rise and I had to drink some of my precious "good water". I had about 50 mls left. I decided that if I was going to find a stream I'd just have to crash my way through the undergrowth, down the very steep slope, now to my right (I thought, north).
All of my "good water" had gone and, desperately thirsty, I had to try some of the "recycled" variety collected the previous night. I took a couple of big glugs and it was absolutely disgusting! Salty, bitter, smelly and worse – but it would save me, wouldn't it? They reckon that some people drink such water for therapeutic purposes. They must be completely out of their tiny minds! On a second occasion I had to do the same and probably took about 250 mls altogether. If there was ever an incentive to never get lost in the forest I had found it!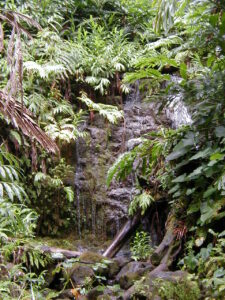 So I slipped, slid, bumped and forced my way downwards. I was stopped many times by sheer drops that had to be walked around (I use the term "walked" very loosely), huge fallen trees to be climbed over, banks to be scrambled up as I slowly progressed downwards. The light began to fade as the tree canopy grew more and more dense and a quiet gloominess descended. And then ahead I could just discern a slight twinkling in the sunlight – water. There was a tiny, tiny stream at the bottom of the slope. I thirstily drank about half a litre straightaway both to relieve my thirst and to take away the disgusting taste of what I'd forced down myself earlier. I filled my water bottles, rinsing one of them very, very thoroughly and checked for a phone signal.
Surprisingly I still had one but my battery was now down to less than 20% as I texted Noelene:
"have found h2o but stream v small will walk downstream a way n wait for rcue but will probly lose fone contact XXX"
and she replied "Go ahead girls send their love xxx"
So I began the trek down another stream. The going was rather more difficult than it had been on Sunday as the stream sloped more steeply and I had to scramble and bash my way over rocks (oh those bruises). I began to feel very isolated and worried in case I badly injured myself. A few cuts, bruises and scratches are one thing and can be easily but painfully dealt with, but had I broken a limb then the outlook would have been much more grim. I slowed my headlong downward dash and progressed more slowly and carefully.
As on Sunday the stream I followed collected others and gradually became wide, deeper and more strongly flowing. It levelled out and I tried to avoid wading through it, preferring to use the banks wherever possible. But they were mostly covered in very dense undergrowth, the way often blocked by fallen trees, thorn bushes, creepers and all the other "jungly" things.   Worst of all, maybe apart from those bloody thorns, were the increasing growth of bamboo. When bamboo grows it does so in dense clumps, rapidly heading upwards but then, at a certain height, it just seems to fall over and forms an almost impenetrable mess of decaying and half decaying tubes, or whatever bamboo trunks are called. They really are very, very difficult to get through and I often had to resort to crawling under or climbing over masses of the things.
Sometimes I was forced into the stream, by now becoming a river, as others joined it. At the junction of "my main" stream with another I found what appeared to be a footpath, the first I'd seen since the one on the hilltop the previous day. It was pretty overgrown but following it along the river bank wasn't too difficult. It lead to a clearing close to the water's edge and it was evident that this had been some sort of temporary Oran Asli encampment some time ago. It was a shame that my camera wouldn't work because it was quite fascinating. They had dug holes, constructed seats and benches from wood and bamboo, held very firmly together with creepers. There were holes dug, evidence of fires and rather ominously, a depression in the ground where something had possibly been buried. It was the size of a small person, although I'm sure that there was probably just an animal buried beneath. I found a very worn and tattered copy of a Malay language newspaper dated 29th July 2004 and that made me think that if they had been there so recently then maybe they had moved to another place nearby. For a few minutes I shouted "help" as loudly as I could. The only response was my own echo, muffled by the forest foliage.
I found another path leading from the clearing and followed my way downstream. I was very tempted to use the Oran Asli space to make my camp, but there was a complete tree canopy, I wouldn't have been able to have been seen from the air and I didn't know what ghosts lurked there! It didn't feel a very welcoming place and I must admit that I left it with a bit of a shiver!   The path was very intermittent and I again had to alternately wade in the stream/river and force my way along the bank. Several times I passed large animal holes in the ground, rather like big fox burrows and I wondered what slept inside them. Occasionally, in patches of sunlight, large beautiful butterflies darted around but I was in no mood to admire them. I almost tripped over the largest wild tortoise I've ever seen. It was all of 70 cms long and 25 cms high and simply looked up as me, very sleepily, as if I were stupid. How wise a tortoise can be!
In places I had to take a track away from the stream, where another joined it or where the going was too difficult and on a couple of occasions I again became disorientated and found myself going in the wrong direction, having to backtrack several times. By about five o'clock I knew that I had to look for somewhere to spend the night and realised that for better or worse this could be my last resting place before rescue or. Yes, there were very dark thoughts going through my mind!
This small river didn't have the many sandbanks of the one I'd followed on Sunday and I began to think that I'd have to sleep in the forest itself. That was a bit daunting as Soe, the Manager of the Old Smokehouse, had told me on the Friday about the discovery of a family of a poisonous Tarantula like spiders that had been found recently, for which David Attenborough and a BBC TV wildlife team had visited the area late in 2004. However, I rounded a bend and saw a likely spot with a sandbank about 10 x 5 m in size jutting slightly out into the river with a large boulder in the middle of the water flow, itself with a small sandy "tail".   There was a gap above in the tree canopy and hopefully the rescue helicopter, when it came, for I was still convinced that it wouldn't be much longer before I was out of there, would be able to spot me.
This was to be my desert island and I reached it by wading through the water as the forest on either bank was, once again, impenetrable.   At one end the stump of a fallen and partly decayed tree was embedded in the bank, thoughtfully providing a seat, next to it was a second seat in the form of a small boulder, then there was my bed space and, at the other end separated by a small width of water, another large boulder, ideal for sunbathing on. Thoughts of Robinson Crusoe came into my head!
I had a couple of hours, so I roughly levelled a place where the sand was drier, once again gathered leaves for my bed and ate half of the remaining shortbread biscuit crumbs, washed down with a rather nice 2005 vintage river water. I smelt: I don't mean that I sniffed the air and took in the fragrances of my surrounds. No, after three days of very hard walking it was me that was the smelly object. So I took off my clothes, realising for the first time just how filthy they were, especially the poor old Stones 2004 tour tee shirt!   I bathed in the stream, washing the sand and muck off me and the dried blood from my wounded arms and legs. I was astonished at how bruised I was and, after only such a short time, how much bonier I had become. I could easily see my ribs and my stomach, never very large, had gone altogether. I wondered how long I would be able to last without food and then rather perversely remembered the IRA hunger strikers of the 1970s who had lasted for several weeks before starving themselves to death. I'd be okay: I had somewhere to sleep, I wasn't ill or badly injured and there was water aplenty.
I washed my hanky (well, one has to maintain some standards), lay naked on a rock to air-dry myself before putting my very dirty and rather unpleasant clothes back on. Only my socks and boots were wet. I began to think about the creatures of the jungle and the large animal holes that I'd seen earlier in the day and decided that I needed protection. I found a heavy piece of wood and lay it besides where I would sleep, although I later wondered what use such an object would be if a Tarantula was crawling over my face in the dark. I'd have probably done myself more harm than the spider.
It was another cold and fitful night and, as the moon rose, the din of the animals increased again; thankfully there were no mosquitoes. The sounds of the night were different here compared with the first river bank and the hilltop. I heard several creatures whose cries to each other were "kark – screech, kark – screech", slowly at first but with the tempo gradually increasing to a pitch and then fading away; there were always 36 "kark – screeches". Another, in what I first took for a human voice,said "one" slowly and repeatedly, almost like a sound engineer at a rock concert a third seemed to repeat "fuck you, fuck you" over and over, to which I replied at the top of my voice "yes, and fuck you too!".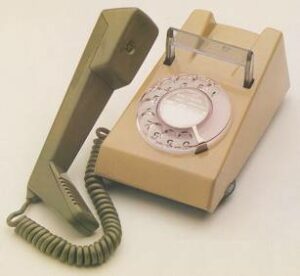 Another creature disconcertingly made a noise like a 1970s British Post Office Telephones "Trimphone" and had me reaching for my mobile at first thinking that it was suddenly, magically working. I heard the mother of all cicadas again, whose sounds increased and increased in pitch to a crescendo fell away and started over again. There were many, many other grunts, groans, screeches, growls, chirps, beeps and other noises all competing with each other to prevent me from sleeping. Once again I shouted at the top of my voice "Will you all shut the fuck up and let me get some sleep". Surprisingly they took not much notice!
The strangest thing about all these noises, or maybe it wasn't, is that I really had no idea, apart from the cicada-like insects, which animals they were coming from. They could have been monkeys, apes, other mammals, birds, insects or any other creature. I hardly saw any of them, which was both a shame and also reassuring. I guess that the higher animals knew that I was there and decided that I would make a lousy meal, so they may as well remain hidden from me. As the almost full moon shone down I did see a lot of bats flitting across the open space in the tree canopy and the occasional night time birds flying over but that was all.
My socks were again cold and wet, making my feet numb so I put my also cold, wet boots on for the night. It helped a little but made for very clumsy sleeping as I rolled from side to side to try to make myself comfortable. Because of my weight loss, my hip bones were protruding a bit and they'd been pretty badly bruised in bumping over the rocks; so the only comfortable position was on my back, with my hands in my pockets and my legs crossed. This isn't, however, how I normally sleep as Noelene says I snore when I lie on my back (although I've never heard me, myself!). After all I didn't want to disturb the creatures of the night, did I! I guess that, as with the previous two nights I probably slept for no more than three hours on and off and my mind was full of thoughts of Noelene, Dawn and Claire, my family, friends and all the colleagues, comrades and acquaintances who I knew would be worried about me. I began to feel very, very guilty and as the moon set behind me, making the night darker still, my mood became gloomier and gloomier. I wondered what I should do next: stay put and wait for rescue,

climb up high again and use my remaining mobile battery to try to make contact with my rescuers, go further downstream, upstream, where, what, how? I reached for my wonderful Maglite torch and a coin, determined to make a choice. But, in the dark I tossed it twice and then lost it in the sand or bedding. No decision was the correct one to take that night.
---
Tuesday 22nd March
At daybreak I knew that I must stay put and wait to be rescued.   I just had to suppress my "I can get out of here myself" attitude; after all, a few days ago, that way of looking at the situation had got me into this trouble! Despite my lack of food and the huge amount of energy that I must have expended to reach "Jungle John's Island" I wasn't actually very hungry. This surprised me a great deal as I had thought that I'd be driven to despair by hunger, being very much a three meals per day person. But it was good that it was so. I determined that I would set some objectives for the day:
Improve my bed because I would be here for a couple of more nights at least Try to make a fire both to warm and cheer me up at night and help my rescuers to locate me
Have a look in the nearby forest for something to eat
Clear some of the ground on the "island" to make it easier to get around – it was strewn with small rocks up to 50 cms in size
Put some stepping stones out to the large rock in the centre of the stream so that I could put my red sweatshirt on it to attract my rescuers
Shout "HELP" as loudly as possible in each direction every half hour from 07:00 until 19:00 each day
Try my mobile phone every hour (I had some fanciful idea that they might have been able to boost the power of the mobile phone transmitters to help – well, you never know!)
Try to ascertain my bearings (this was relatively easy as I was able to track the sun from east to west: my island was facing east)
For the first time I felt a "certain stirring" and located a boulder on a very small, nearby, down wind, sand bar where I proceeded to utilise Morrison's finest white tissue for its intended purpose for the first time in about four days (I knew you'd be glad to hear that)! I tried my camera again but it still wouldn't work and I noticed that the screen and inside of the lens was misted up from its drenching on Sunday. So I removed it from its case and laid it on my "sitting rock" in the sun, hoping that it would dry.
I tried and tried and tried to make a fire by rubbing two sticks together, but the best I could achieve, before my aching arm muscles gave out, was a faint smell of wood getting warmer. I'd already torn a couple of pieces of toilet paper into fine shreds to catch the first smoulderings but it wasn't to be. For the next two days I tried to make a fire in every way possible. I even considered breaking my glasses in two and using the two lenses together to try to get more heat from the sun, but thought that that would give me other problems, so I didn't.   I attempted the stick rubbing way, time and again but to no avail. Is it really possible, unless you can make a bow or have a piece of dry flat wood to rub another piece of wood onto between your palms?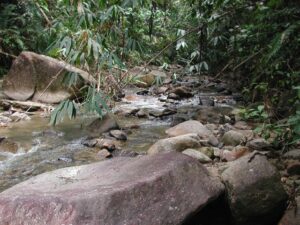 I wasn't going to venture far into the forest in search of food. With my sense of direction it would be too easy to get lost, so I concentrated on finding something nearby. I found some small red berries which I tasted but they were disgustingly bitter, I was worried in case they were poisonous and, in any case, there would never have been enough to make a meal from anyway. I tried bamboo shoots and there were quite a few of these. They were quite sweet, very chewy but, again, I'd have had gather armfuls to sustain me. In any case I'm not a bloody Giant Panda, am I? I looked for a banana tree because I had heard that even very small, immature bananas can be nutritious, but there were none that I could see. After a couple of hours I ate the few remaining crumbs of the last shortbread biscuit and resigned myself to being hungry until I was rescued. Although, to be honest, I didn't really feel as hungry as I thought I should.
The previous evening I'd heard thunder and the sky had clouded over for a while. Having lived in Malaysia and visited it often, I know how quickly and violently the tropical rain storms can blow in. I was determined to avoid getting wet as that would make my nights even colder and more uncomfortable. In any case, my bed was only about five cms above the level of the river and I didn't fancy being forced to sleep in the forest itself if the water rose much.   I saw a very large plant with enormous leaves, about 2 m x 1 m in size, with a very shiny upper surface.   I thought that I might be able to build some sort of shelter out of them and certainly make my bed a little dried (the water from the sand had seeped through the previously night's leaves and I had awoken not only stiff but damp). So, with a great struggle, including having to partially bite through the thick stems, I gathered several of these monsters, formed a small shelter between one of my rocks and the sand and lay the rest down over my existing bedding for the night ahead.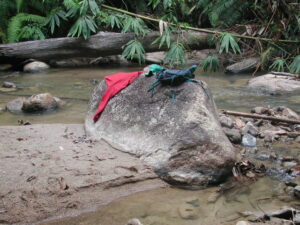 I started to put stepping stones in the stream so that I could more easily reach the large boulder in the centre of the water course without getting my boots wet again. This was very therapeutic: I could build something. From stepping stones it became a small causeway against which I put sand, turning it into a partial dam and altering the water flow. I used most of the rocks and stones that I had wanted to clear from my island to do this and after a few hours I was satisfied.
Every time I completed a task, no matter how small, I would take a two minute rest and "treat myself" to a drink of water. By keeping physically active I was trying to avoid thinking too much about my situation because I knew that would bring on depression, something that I'm fortunately not too familiar with and therefore not too well equipped to cope with.
In between these jobs I never stopped trying to make fire, shouted "HELP ME" in all directions every half hour and checked for a mobile phone signal. None of these three activities seemed to make much sense any more and I wondered whether or not I should stop them, but I didn't.
By about three o'clock in the afternoon I had done just about all I could for the day and I sat on my log for a while, knapping occasionally with my elbows on my knees. I daydreamed and Noelene and the girls were there with me, only to be snatched away as my elbow slipped from my knee and I jerked suddenly awake.
I'm not a religious person at all. In fact I detest religion as the cause of most of the wars and troubles the world has had to endure throughout its history.   I guess that, for most of my life, I've described myself as an agnostic (i.e. I couldn't really make up my mind!) but latterly I've described myself as an atheist; strange then that my thoughts should turn to spirituality. I prayed to be rescued, prayed to be reunited with Noelene, the girls, family and friends, prayed that I would get out alive and well. I didn't pray to any particular god and, as the Malaysian press loved to misquote later, I didn't "find god in the jungle". I didn't become a Christian, Jew, Moslem, Hindu, Buddhist or anything else but I did develop a faith in a "higher spirit", one that can be for good or evil. Perhaps it's the combined spiritual energy of humankind; maybe I discovered humanism within myself.
I thought long and hard about the last 50 years of my life, especially about the bad things I'd done, those actions that I'm still ashamed of and asked to be forgiven for each of them. Maybe it's wrong of me to say so but, with a few exceptions, I didn't consider that I'd been a "too bad" guy most of the time.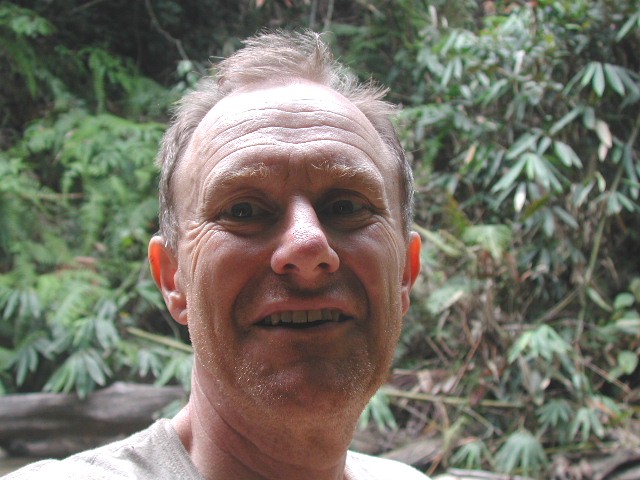 This sort of spiritual confrontation was something I had earlier realised I would have to go through if I was lost for long and if I had time on my hands. It was uncomfortable to me but something I had to face, albeit reluctantly. To avoid further thoughts like this I tried to busy myself, redoubling my efforts to make a fire, making the causeway to the boulder in the middle of the stream bigger and wider, unnecessarily gathering more leaves for my bedding and any other tiny job I could think of. I considered taking a bath in the stream and realised that although I'd be cleanish the clothes that I'd have to put back on would still stink revoltingly and I thought that maybe I should do some washing tomorrow if rescue didn't come.
Eventually the light began to fade behind me, but as it did so I could hear the rumble of thunder and the sky above clouded over quite alarmingly. I made sure all my essential items, and there weren't many of them – the toilet roll (no. 1 important item!), mobile phone with its battery now down to 10%, glasses, camera and rucksack were under the shelter I'd made earlier and sat on my bed waiting for the rain. I knew there would be no way to keep the bed itself dry but I would myself join my belongings when the deluge came. But it didn't: the sky cleared, the moon came out and I was obviously in for another balmy night!
The noise the previous night had been horrendous and the "night chorus" started up again.   I tore up a couple of pieces of precious toilet paper and stuffed one in each ear as makeshift earplugs and that deadened the sound quite a bit. In contrast with the previous night my feet were dry and relatively warm, even without my boots on, although the rest of my body shivered and shaked on and off all night. My main problem in getting comfortable was that my weight loss had made me even bonier than usual and whether I lay on my back or my sides my hips and back bones settled very uncomfortably in the sand. I had a spare one of the very large leaves and, in the cold, I pulled it over me hoping that it would provide some insulation. Well, I don't think it really helped at all and it was cumbersome to keep in place. But I persisted, believing that if I could trap a layer of "body warm" air between me and the leaf I would be warmer. In reality, all I think that happened was that a layer of cold condensation formed on the leaf and I ended the night damper than I had started.
---
Wednesday 23rd March
I guess that I slept no more that night than the other three and certainly didn't feel at all rested when the sky began to lighten at its customary seven o'clock. I rose, weary and aching, with a day ahead that offered nothing.   I'd done all my jobs the day before and it seemed that there would be nothing to do but wait. And I'm not very good at doing nothing and waiting.
As well as my body and clothes not exactly smelling their best, I hadn't cleaned my teeth for five days. Now that may not seem important but my mouth tasted worse than after any "15 pints of lager and a Vindaloo" night out. I seemed to remember seeing a TV programme in which indigenous people were shown cleaning their teeth with a small piece of wood and I searched for one, but nothing suitable was to hand. So, as best I could, I scraped the gunge and gunk from my teeth and tongue with my finger nails and thoroughly washed my mouth with water. I thought that I'd done some good but in reality the taste was just as bad.
I realised that taste was one of the things I was missing. Every day we taste many different things, mostly food; and I like my food – sweet, sour, salty, bitter, spicy, the different flavours and textures of the food and drink we take every day. But, since my last few shortbread biscuit crumbs, I'd tasted nothing but the neutrality of the river water and it seemed that it would stay that way until I was rescued.
Ah, rescue; what were the authorities doing? Surely they should have helicopters up and looking by now, surely I'd have heard something if they had.   I was convinced that they had no idea at all where I was and were looking in quite the wrong place with inadequate resources and equipment. I longed to know what was going on. Shamefacedly I thought time and again about Noelene and the girls. I hated myself for putting them through what they were obviously having to cope with.   It's very corny to say it but my love for them dominated my thoughts, more than survival itself.
I determined to cheer myself up and be positive, because that is my way; I'm a natural optimist. Things would turn out okay; it might take a few days more but I had water, shelter of a sort and I could manage without food for a lot longer. But I had dark thoughts and wondered if, while my mobile phone still had some battery, I should write last text messages to Noelene and the girls and even do a "text will" to be found beside me in a few weeks time. This was one of the worse periods of the whole five days and I felt alternately very sorry for and very angry at myself.
I whistled and sang! I don't have much of a singing voice, even though in my youth I was in the village church choir.   But I do sing and whistle to myself constantly at home and at work. It both amuses and annoys Noelene – "you're always so bloody cheerful!" In fact I'd been singing and whistling on and off quite a lot as the days passed. Some of the songs were banal in the extreme and most of them ones that I would never, ever listen to. I hate Chris de Burgh's "Lady in Red" but I sang it and thought of Noelene and I getting ready for the dinner dance at Harrogate which we attend each year. In the last days I'd frequently sung Don McLean's "American Pie" (why?), Que Sera Sera seemed a bit more appropriate as did "Always Look on the Bright Side of Life". There were others too, but I can't remember them.   No doubt one was "Comfortably Numb" for that's how I felt from time to time (maybe "Uncomfortably Numb).
Because the night had been uncomfortable yet again I gathered more and more dried bamboo leaves, armfuls of them and rebuilt my bed, levelling the sand with a stick before laying it down again.   I stuffed more dried leaves into the Morrison's carrier bag in my rucksack in an attempt to make my pillow more comfortable too.
I'd been making sure to leave my red sweatshirt of the boulder in the middle of the stream, hoping that it would be able to be seen by the helicopter that surely must be searching each stream, river and water course, slowly and at low level. My other things were on the boulder too – I was determined to make sure that my feet were dry so there were my socks, boots, boot inners and Sorbothane inserts (remember John, "look after your feet and they will look after you"). I had swapped my night time long trousers for the shorts so the trousers were on the boulder too. The camera was still drying out and began to work a bit again so I added that and it's damp case. I wanted to make sure the rucksack was dry for the night so on that went too.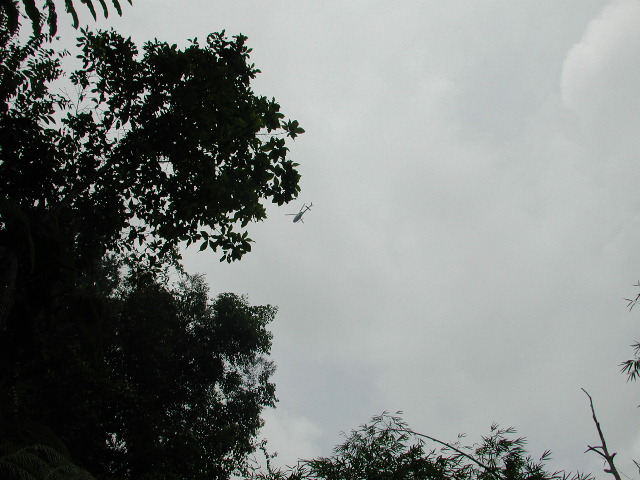 It was about a quarter to eleven and I was messing around, trying to make myself appear busy and take my mind off my predicament. I turned my socks over and was standing by the mid-stream boulder when I thought I heard an unfamiliar noise. I had; it was an engine, quite far off but unmistakably an engine – the first human sound of any sort (apart from my own) I'd heard for five days. It was coming towards me and I rushed to my red sweatshirt, whirling it around my head like a Dervish, jumping up and down, frantically waving. The chopper came into sight, rather high up to my east and flying quite fast. It simply passed me by, but it had seen me, hadn't it, it would turn round, come back and winch me out of the forest by a wire as they do in all the best films, wouldn't it? But the engine faded into the distance and was gone.
I was devastated and, for the first time since I became lost, I wept. Just snuffling, sorry-for-myself tears, but I wept and that's all there is too it. I was crushed and sat on my log, dazed, not knowing for a while what to do. They had searched this area now, had found nothing and would move on to another part of the forest. They wouldn't come back this way for a very long time.   I would have to wait for days or find my own way out and I began to think of how I should do that. I really didn't have the heart to take on the forest again, knowing how slow and painful progress was likely to be. This was an especially dense part and I would have real problems to get myself out.
I whistled and sang "Always Look on the Bright Side of Life" and tried to get on with my day. It's one thing wearing the same tee shirt for five days, but the same underpants? Yuk, yuk, yuk! I'd better do something about that! So I washed them in the stream and added them to the other drying things on the boulder. I put on my shorts and, as Noelene would say "hung loose Mother Goose".
There was simply nothing to do but sit around and feel sorry for myself. Maybe if I had lit a fire the helicopter would have seen me. So again I frantically rubbed the sticks together until my arms ached and they (the sticks, that is) broke in two, but still not even a wisp of smoke. I didn't feel like continuing to turn my phone on every hour but I did so, standing on the mid-stream boulder and holding it as high as possible to try to get a signal; but nothing. I didn't even feel like continuing to shout "HELP, HELP" every half hour in all directions, but I did.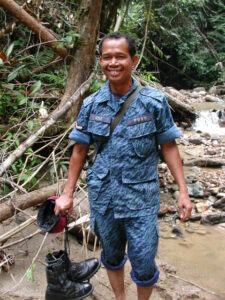 At about half past one it was time to cry for help again and I did so first to the east and then north – "HELP, HELP", then "YES, YES"", surely I was hearing things but no, splashing down the stream towards me was a very small brown man in a blue uniform in bare feet with his boots strung around his neck. I WAS RESCUED! I screamed, shouted, jumped up and down, punched the air, threw my hat into the air and howled "YES, YES, YES" at the top of my voice. After five long days it was over, I would be safe and with my loved ones again.   He reached me and I clung onto him like a brother with tears streaming down my face. "Mr. John"? he asked. "Yes, yes, yes", of course I was Mr. John.
His name was Atai and he was an Oran Asli.   Atai was quickly followed by another of his race called Rashig and they called to others who quickly arrived. Altogether, within a few minutes, there were about 10 of them on Jungle John's island. This was unit Tigu- Tigu Alpha of VAT 69, part of the Malaysian Polis Special Forces, their equivalent of the UK's SAS and they proudly showed me their red berets with silver insignias. Only one guy, Raizal, spoke even a few words of English but that didn't matter. The first question was "you okay?" – "I okay, okay" was my reply.   I grabbed my camera and took a few pictures of my rescuers and they one of me with them. I thought that we would leave immediately but Raizal said "heli come, heli come, wait, wait". Everything was said twice for some reason.   I could hear the radio guy calling "Tigu-Tigu Alpha, heli, heli" time and again but with just a few crackles as a response.
One of the men lit a fire to make as much smoke as possible. He didn't rub sticks together, merely used a disposable gas cigarette lighter. Now why hadn't I thought of that? Another made me sweet coffee with condensed milk over another fire he'd lit and then boiled up some water in an aluminium pan and added Maggi curry flavour instant noodles. I had proper food once again and it was joyous.   They gave me orange juice and my mouth was filled with wonderful flavours once more. I suddenly realized that I was exhausted but very, very happy as the guys sat or stood around, smoking, relaxing and trying to contact the helicopter. One of them examined me, gently touching my scrapes and cuts but I said "okay, okay" and then "my wife, my wife". He didn't seem to understand so I said "my woman, my woman".   He smiled and gave me a thumbs up so I guessed that they had made contact by radio and that Noelene would soon be told that I'd been found.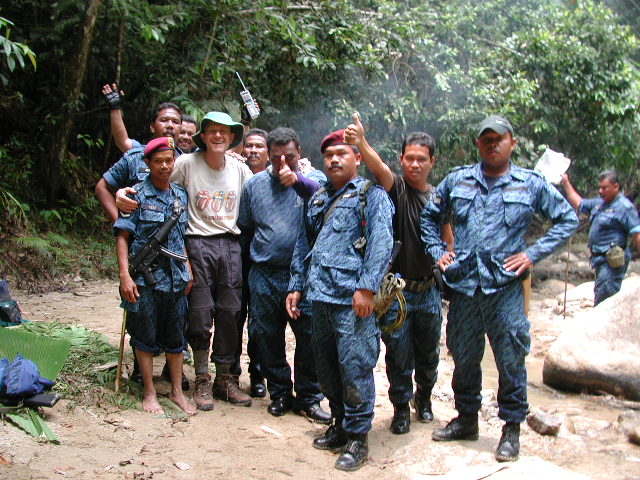 I put on my very wet (but clean) underpants, long trousers, socks and boots and packed all my bits and pieces into the rucksack. It seemed that they couldn't make good contact with the helicopter and we would have to walk a while. It was no problem for me. I felt happy, light hearted and so very, very relieved that it was almost all over. With two of the guys in front of me wielding pangas and clearing the way before us, yes, hacking their way through the jungle as in all the best films, we made our way upstream, which surprised me a little. Before we had left, the commander of the force had showed me the detailed map they had been using. I'd supposed that there weren't so many streams such as I had followed but, if fact, there were hundreds of them. It was no wonder that the search had been so difficult.   Rashig chopped a branch from a tree, quickly and expertly removed the bark and handed me a very useful walking stick. Oh that I'd had one of those a few days ago.
After a couple of kms we met another group of searchers and they all wanted to shake my hands and clap me on the back. It seemed as if I was the hero, when in fact it was they who were mine. We scrambled up waterfalls, past the abandoned Oran Asli encampment, that I'd seen days before, and slowly made progress through the forest.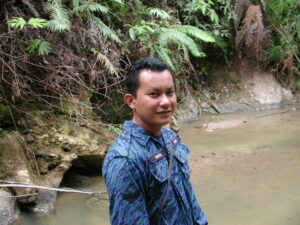 About three hours after leaving Jungle John's Island we rounded a bend and I saw three small modern looking concrete built buildings on the right side of the stream. "What are those?" I said to Raizal. "Tandas, tandas (toilets)" he replied.   What, toilets in the middle of the jungle, it can't be! And it wasn't, these were the toilet blocks at the Jeriau Waterfalls that I'd visited the previous Friday. For almost three days I'd been no more than about 10 kms from them! More and more of the Special Forces joined us and I was introduced to the major, very big, smart and, in contrast with my rescuers, with very clean boots! Atai, the small Oran Asli who had first reached me put on his own boots at last. All the time in the forest and stream he'd been bare footed but he now matched the major with his clean, dry boots.
We waited around and I took a few photos, they gave me more food (chocolate chip biscuits and orange juice) and rested and relaxed themselves. The major spoke pretty good English and I asked him if my wife had been told of my rescue. He said "Wife knows, very happy". We were all very happy but no-one more so than me. I was exuberant.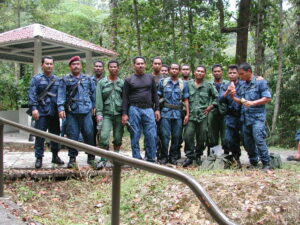 The Jeriau Waterfalls is a small tourist stop and it felt strange as I and my guard of maybe 30 Special Forces Polis walked along the paths to an ambulance which was waiting for me. But I said that I was okay so they put me in a 4WD instead and drove me out of the tourist area, slowly up the road to Fraser's Hill town. I thought that we would stop at the Old Smokehouse but we passed it by and continued to the "town centre" where a large crowd had gathered. I was escorted from the 4WD to cheers from the crowds and dozens of cameras flashing at me, as in all of the best "press scrum downs" that you often see on TV. Everyone wanted to shake my hands, pat me on the back, give me a thumbs up. I was crying with happiness and, with tears rolling down my face I was escorted into the clinic.
I was accompanied to the clinic by OCS Radzi, chief of the Bukit Fraser Polis, who had been involved in my rescue from the start and by Junus Suhid, Director of the Pahang State Tourism Action Council who is a very keen photographer.
Junus had lived outside Malaysia a great deal and spoke perfect English. He told me that the State Tourism Minister, Datuk Maznah Mazlan, has spoken to Noelene personally and she knew that I was okay. I was ordered to strip to my underpants (just as well I'd washed them that day or my mother would never have forgiven me!) and, as I removed my trousers, a number of leeches fell to the floor. "I don't think we want these", said the nurse, expertly picking them up and getting rid of the disgusting things.   She attended to my wounds with an iodine wash, measured my blood pressure (130/90) and gave me a tetanus injection, she dressed me in a clean shirt that belonged to her husband and gave me a pair of plastic sandals which eventually rubbed a blister on my big toe, something which my Brasher boots certainly hadn't done. I was told that I needed to go to the main hospital at the nearest town, Raub, for further checks and I asked if that was really necessary. I guess that they were being cautious and said that I should go.
I asked again if I could speak to Noelene. Junus gave me his mobile phone/PDA device and I made the call that I'd been waiting to make ever since I'd been rescued. The phone was on speaker mode and I could hardly hear what Noelene, Dawn and Claire were saying for the screams and squeals of delight coming from them. The tears streamed down my face and at last I felt relief.   I apologised to them for what I'd put them through, told them how much I loved them and how our love for each other had helped me through the "dark moments" that I'd experienced during my isolation. I promised to call back later and speak to Noelene without so many people listening in!
I was escorted out of the clinic by a posse of lovely policemen, Sgt. Radzi, Ibrahim, Kahar and Bahair, through a clapping and cheering crowd of about 200 rescuers, local people, tourists, press photographers and journalists to the police station opposite where they wanted to ask me "some questions". I had thought that I was going to be interrogated and shamed (quite rightly in my opinion) for the stupidity of what I'd done. But it wasn't to be the case. It was a press conference and the local men and women of the fourth estate wanted to hear my story.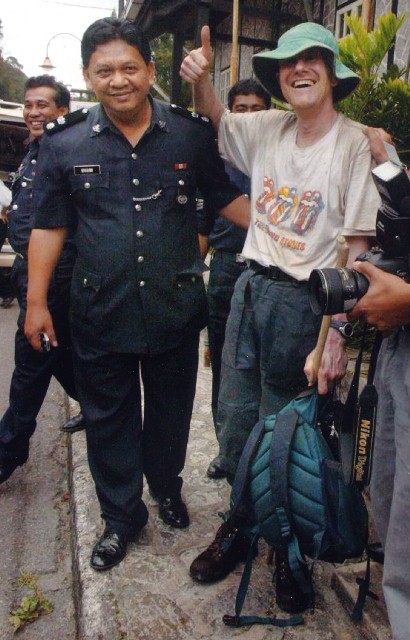 I began by apologising for all the problems and inconvenience that I'd caused to all who had been involved in my rescue. I said what a wonderful country Malaysia is and especially what a fine State is Pahang; and it's true, it is! I sincerely thanked those who had been involved in the rescue and it turned out that on the last day there had been almost 150 Polis, Polis Special Forces, Army, three helicopters, tracker dogs and many, many local volunteers. It was an amazing effort and time and again I expressed my extreme gratitude. I was asked if I had prayed and I said that I had, even though until then I had considered myself to be an atheist. I was asked therefore if I had "found god in the jungle" and I tried to explain that I had found a certain spirituality but I suppose that the subtlety of my reply went over the heads of most of those present. In any case, why let the truth get in the way of a good story?
I was asked if I had eaten any of the forest plants and I said that I'd tried some berries but they had been disgusting. I think it was my answers to these two questions that led them to write, and others around the world to repeat, that I had found god in the jungle and had survived on a diet of plants and fruits from the forest. As I'm an "ologist" (a microbiologist, actually) I suppose that anyone who would live on such fare must be a botanist and why else would such a person go there other than to research the plants? Amongst the many lessons I learned from this experience is that you must be very clear, concise and simple with the press. They're bound to get hold of the wrong end of a story!
I noticed on the wall of the Polis conference room a large chart showing the details of the rescue, where each team was, who was leading it, the area in which they were searching and a crude map with already searched sections crossed off. Again it brought home to me the enormity of the scale of the search and I felt very humbled once again. Soe, the Manager of the Old Smokehouse, arrived at the press conference with a holdall containing clothes and a few other things but there was hardly any chance to speak to him. But he and Junus collected my rucksack, boots and socks from the clinic and took them up to the hotel.
I was taken from the Polis station, back in the 4WD to the Old Smokehouse and a wonderful welcome from Soe, who hugged me like a brother, Maya, the receptionist and all of the other staff, clapping as I asked if they had any vacancies for the night! I went to my room, cleaned my teeth and shaved for the first time in five days and had a long, luxurious shower. I felt clean at last and it was great! I put on clean clothes, including a pair of trousers loaned by Soe and sat down with the assembled throng on the hotel's veranda to a large cold beer and an excellent Beef Wellington. Some Asian food would have been nice but, hey, I wasn't going to complain. This was just perfect.
Janet Ng from Thor Malaysia phoned and said that she and Kiew had been up to Bukit Fraser the previous day to see what, if any help they could give and to "inspect the troops". Kiew had pronounced himself satisfied with the operation and they had gone back to KL. Janet arranged to come and pick me up the next day at about eleven o'clock, would take me to the Hyatt Saujana at Subang and try to get me a flight back to the UK that night.
I talked with Soe, Junus and the Polis who were sitting with me – Ibrahim, Kahar and Bahair and they told me more about the rescue. They wanted to know my full story and I recounted it to them in as much detail as I could remember. The Bukit Fraser ambulance had followed us to the hotel and was waiting to take me down to Raub for a "further inspection"! But I really didn't feel like lying in the back of an ambulance down a very twisting, bumpy road so I took off in Junus' 4WD with two of the Polis. We dropped one of them off at the Bukit Fraser station where I met, this time in civilian clothes, the guys who had actually rescued me. There were handshakes and thumbs up all round, hugs from some of them and many a photo taken.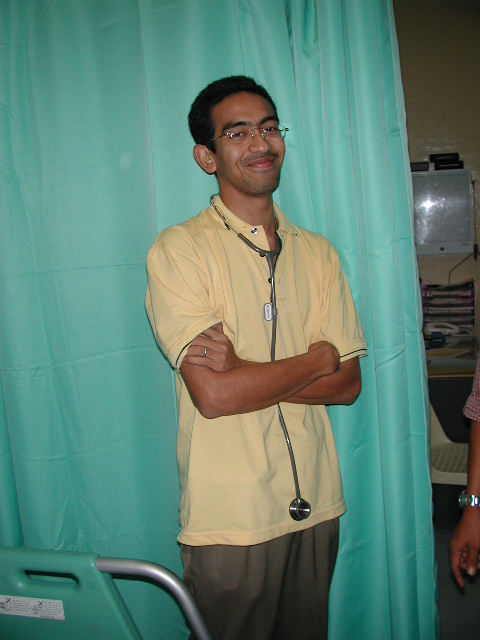 Junus, Inspector Bahair and I drove down to Raub, closely followed by the ambulance with its lights flashing and, occasionally, its siren wailing. I was taken into the A&E, rather guiltily jumping the queue of local people who had obviously been waiting a long time for attention, and met a charming young Malay doctor who had been trained for seven years in Dublin. He checked my blood pressure (still okay), heart and lungs, gave me another injection and said that he'd like to keep me in overnight. But I was having none of that and he agreed that "if I really wanted to" I could go back to the Old Smokehouse. He advised me to have blood tests carried out in about five week's time to see whether or not I'd picked up any parasitic infections and officially discharged me.
We dropped Inspector Bahair with some of his colleagues at a rather nice looking fish restaurant and headed back to Bukit Fraser with Junus. On the way back he loaned me his phone again and I had an all too brief private chat with Noelene, until the signal dropped. Junus and I talked, not so much about the rescue but about ourselves. His wife Liz has a fascinating ancestry being descended from a former Cornish tin miner who had come to Malaysia in the 1930s (already married in England with three children), married a local woman and had three more children of the same gender and named the same as his English family. Once the Japanese invasion took place he disappeared, probably back to Cornwall and was never seen again. Last year they had visited Cornwall to try and track down his grave or find some relatives but, despite the help of the local press, hadn't been successful. But Junus certainly has an affinity for Britain and all that's British. He told me that he'd worked in the USA for quite a long time and had spent several years in Japan too, learning the language fluently. It was a fascinating conversation with a very worldly and educated man and took my mind off the fatigue that I was now feeling.
We got back to the Smokehouse at about half past eleven and the young boy, who is a waiter there, handed me my key, Soe popped his head around the door and said "good night" and I was alone with a huge, warm comfortable bed. I checked my texts for the first time since being found and discovered the ones that Noelene and a couple of other people had sent me whilst I was out of signal range. I composed a text to my closest friends and family thanking them for their love, help and support, sent it to maybe a dozen or so people and then settled down for a good night's sleep. But it didn't come. So many things were whizzing around inside my head that even the warmth, quiet and softness of that beautiful room couldn't induce me to sleep for more than a few hours.
---
Thursday 24th March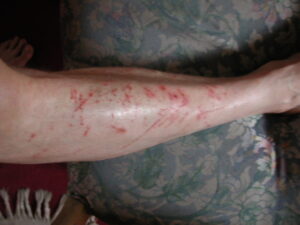 I crawled out of bed fairly early and examined my scratches, bumps and bruises in the mirror, showered yet again and dressed in Soe's trousers once more. Hopefully I'd be on my way back to the UK today. I sat on the veranda of the hotel and breakfasted in fine style with toast, croissants, jams and an English style cooked breakfast of sausage, bacon (beef – Malaysia is a predominantly Muslim country!), eggs, baked beans, tomato and mushroom washed down with some very excellent Boh tea from the Cameron Highlands.
There was just Soe and I and we talked about ourselves. He's a fascinating young man; originally from Burma he became a refugee as a result of his opposition to the Burmese military regime. He talked about the opposition movement, how he had become involved in it but seemed sorry that he hadn't been fit enough to take part in the military training.   He talked about being involved in my rescue on the very first day that I raised the alarm and told me how he'd been part of the first search party that had abortively looked for me on Pine Tree Hill. He gave me the names of most of the key local officers who had been involved in the operation, although, because there were so many names difficult for a European to remember, I guess that I got some of them wrong. But there were Durai, the guide who works for the Fraser's Hill Development Corporation, Maya the hotel receptionist, Polis officers Razie, Thura, Thilan, Mat, Ibrahim, Kahar and Bahair all of varying rank, some coming from the small Fraser's Hill force and others from the Divisional Headquarters at Raub.
Soe told me about the visit from Janet and Kiew and said that they had seemed happy with the operation and how the British Vice-Consul, Rob Claridge, had also come up to Fraser's Hill and had himself got involved in it too.   Datuk Maznah Mazlan, the Pahang State Tourism Minister and Junus had both flown over the search area in a helicopter and the Minister had cut through all red tape to get more rescuers involved, helicopters in the air and search dogs on the ground. The hotel had catered for almost 100 searchers. Normally they feed an average of 15 people per day and the local market had run out of food with fresh supplies having to be brought up from Raub.   He said that prayers had been said for me in the local mosque and that Christians, Buddhists and Hindus had been praying for me too.
Some Polis officers arrived, including a couple not in uniform who were introduced to me as "Special Branch".   They wanted me to recount my story, which I happily did and noted down all my details, even including where I had obtained my main qualification from (my very, very ordinary B.Sc. from Stockport Tech!). They pronounced themselves satisfied and, as a result, I'll probably never be allowed into Malaysia again for causing all the problems! Then Janet and Pua from Thor Malaysia arrived to take me back to KL. We had an emotional reunion with hugs all round, I searched Soe out to say my thanks once again and bid him goodbye, Maya too came to see me off and told me that her husband had himself been involved in the search. I promised to return next year and do the walk again, but this time with a guide! So with waves, handshakes and hugs all round I left the Old Smokehouse at Fraser's Hill and headed back to the Hyatt Saujana at Subang.
Pua drove and he, Janet and I chatted all the way. We had to go back to the hotel and get my ticket before we could arrange my homeward flight. There was one from KLIA just before midnight that day, but I'd have to go via London or take the following day's direct flight to Manchester. I wanted to take the earlier, but only economy and first class seats were available. After my exploits I wasn't going to go economy and an upgrade to first class was £2,700! After terrific help from Janus, Janet's best efforts and waiting at the local Air Malaysia office for about an hour and a half my return direct to Manchester the following day was arranged.
Back at the Hyatt I phoned Noelene again, having tried and tried to get through to her earlier but only receiving an engaged tone. We made contact and she told me that it was bedlam at the house; reporters, photographers, camera crews and every other sort of media person wanted to speak to me and her.   Claire was fending them off and later she and Dawn gave interviews to local radio themselves. Noelene asked if I would be interviewed live by Kevin Boucquet of BBC TV News as he and a camera crew were in our dining room. I gave the interview and I reckon it went fairly well. Kevin even said at the end that I should have been a journalist; I think not!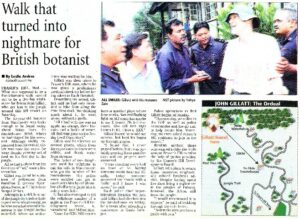 I had a wonderful celebratory dinner with Janet, Kiew, Pua, Jacqueline, Adeline and Fanny from Thor Malaysia in one of the excellent Chinese seafood restaurants close to the runway of the old KL airport. They gave me laminated copies of the Star and New Straits Times articles which had appeared in the morning's newspapers and a "welcome back" card. At about eleven o'clock we said our goodbyes and Pua took me back to the Hyatt. I spoke to Noelene again. She told me that it was still bedlam at the house and that a real posse of the media wanted to meet me at Manchester Airport. Apparently, Claire had spoken to the airport media people and they had suggested two options: that they try to arrange for Noelene and the girls to meet me at the airport and we then, if possible, be "sneaked out" of a back entrance. I could them do a "press conference" on our back lawn later. Their preferred suggestion, however, was to meet the press at the airport itself and get the interviews over and done with. Claire had favoured the first alternative, but I wasn't too keen on this idea and said that we could discuss it further in the morning.
I settled down to sleep and just as I did so the phone by my bed rang and I rather blearily answered it. "Guess who this is", said the voice. "I've no idea", I replied. "Well, I'm Malaysian", he said. "Yes and so are 20 million other people around here", I replied. "But I don't live in Malaysia and I know you from a very long time ago" he responded. Immediately I said "It's Foo Wing Chan the Chinaman" and it was. Foo Wing had been one of my very best friends when I started work in my late teens. He, Chris Denman and I were virtually inseparable at times. We reminisced about changing the engine of his ancient Mini in a snowstorm in the front garden of his house in Slough (probably around 1968) how his wife Audrey had cooked me my first Chinese meal and how they had introduced me to Chinese food in London's Soho.  He had found me because, living in Toronto, to where he had emigrated in the late 60s, he studies the online versions of the Malaysian newspapers each day and saw my name under the headline "British Botanist Rescued"! He realised that there couldn't be too many Englishmen in their mid 50s called John Gillatt and had mysteriously tracked me down to the Hyatt (must be the Triad connection). We chatted for a while and we arranged to speak further when I returned to the UK. It was such an amazing experience to me. Because of my stupidity, friends who had been apart for more than 35 years had been reunited.
---
Friday 25th March
When I awoke, the first thing I did was to phone Noelene and we agreed that I would first be reunited with her and the girls privately on my arrival at Manchester Airport, meet the press there and then go home and relax. And that was how it was done.
As the previous night, I slept only fitfully, maybe for no more than four or five hours but awoke fairly refreshed, got dressed, packed, checked out and headed for the Airport in a chauffer driver Merc.; and very nice it was too. The staff in the hotel all seemed to know who I was and kept asking me if I was okay. The chauffer wanted to hear my story and told me of his friendship with several famous Brits who rank way above me (including Dennis Law and Frank Williams).   I checked in at the VIP counter and spent the next 13 hours fighting fatigue and boredom as I flew back to the UK. The flight left on time at quarter to eleven in the morning in Malaysia and arrived in Manchester at about quarter past four in the afternoon. A couple of the cabin crew asked if I was the guy who had "got lost in the jungle" and we chatted a bit about my experiences.  They were lovely people.
As soon as I stepped off the airbridge at Manchester Airport I turned on my phone and prepared to call Noelene but, all of a sudden, she and the girls were there in front of me. We hugged, kissed, cried and did it all over and over again. It was wonderful to be able to touch and hold them again and I wasn't going to let go. Eventually we had to move and a very kind lady from the Airport Media Centre ushered us through Immigration, helped collect my case and escorted us through Customs to the public area where a host of photographers and camera crew were waiting for us. We followed the Airport lady to a "quiet area" and I "faced the press". It wasn't too bad and I did my best to correct some of the mistaken ideas they had got about me, my supposed finding of god, my profession, what I ate in the forest. But hey, why spoil a good story!
They were very good, though and we were soon on the M60 heading home. When we got there I could see that the house had been covered with "Welcome Home" banners, balloons and all sorts of bunting. Luc, our next door neighbour's three year old son, had fixed letters on the wall saying "WELCOME HOME JUNGLE JOHN"! Graham and Anne turned up and the house filled with the people that I love most.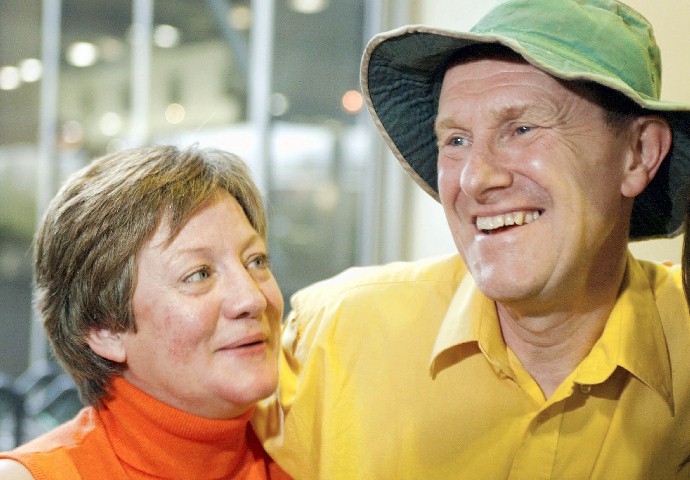 Copious bottles of Champagne were opened. Janine, one of Graham and Anne's French friends made a speech in English and proposed a toast, unbeknown to me she had filled my glass with vinegar as a punishment for all the trouble I'd caused. Mind you, even that tasted better than the "recycled water" I had tasted some days before! The evening took on a party-like atmosphere with Kati, Tony and the children from next door joining us and I just sat there in love with everyone, enjoying being back. They showed me some of the press cuttings, Chris had downloaded the Kevin Boucquet interviews from the BBC website and the phone was ringing non-stop from media people still wanting to speak to me. So I did an interview with BBC Five Live and made an arrangement with Granada Reports for the next day. We watched the BBC Look North West news bulletin with me being second item on, recorded at the Airport and, as some of our friends went home Jon and Alex arrived.
We had an excellent Indian takeaway, a couple of beers and a good old chat about my exploits and how they had all coped (alternately pretty well and with difficulty). Noelene, once she had got over the initial shock had swung into action and had busied herself with making sure that her man was returned to her in one piece. That was her way of coping.   Claire and Dawn had been at the house every day, had taken a lot of the routine "homely" pressure off Noelene and had dealt with the press and media. Graham and Anne had slept at the house throughout and they and the girls had given Noelene both emotional and practical support throughout.
---
Saturday March 26th
Finally, Noelene and I went to bed but, guess what, I hardly slept yet again and got up at about five o'clock to start writing down what had happened before I forgot the detail. Later we were interviewed by Granada Reports, the main UK North West commercial TV news channel.   This was a very relaxed and quite enjoyable affair with Kate just chatting to us while Alan filmed. I've found that it helps me a lot to talk about my experiences and later GMTV (UK early morning TV station) made contact to see if I'd appear on their programme on Tuesday morning. Initially I said "no" but reflected a little and they said they'd phone me back on Monday for a definite answer. Noelene and I went to the supermarket to get food for the meal she'd arranged to cook for the girls, their partners and Alex on Sunday and we bought all the newspapers. There was a short paragraph or two in the national dailies but a full page spread of the homecoming in the Manchester Evening News and Bolton Evening News.
I made a few phone calls to my brother Rob and sisters Helen and Jan as well as a few close friends who had sent their best wishes and thoughts. All of them seemed to be as delighted to hear from me as I was to be able to speak to them. Pete was watching the first of the new Dr. Who series so cut me off. But he did guiltily call me back later so I've kind of forgiven him!
---
Sunday March 27th
After another very poor night's sleep I got up and continued to write this account of the past week. Noelene and I started to try and sort out all the things that we needed to do, people I needed to thank and contact and we decided then that I would do the GMTV interview on the Tuesday, hoping that that would be the end of all the publicity.
We actually did the housework together, cleaning, polishing, washing and generally tidying up; preparing the beds for Jon, Dawn and Alex who would be staying with us that night. And you know, I actually enjoyed doing something as mundane as the housework (only on this one occasion, though!).
Jon, Dawn and Alex drove over from Rochdale and we walked in the cold, damp air, more like autumn than spring, to the best pub in Bolton – The Howcroft, where we met Claire and Carl, demolished several plates of butties (that's sandwiches to you non-northern British readers) and downed quite a few pints of the best bitter beer available.
We walked home, Noelene cooked and looked after all of us as Jon and I sat on the sofa in the living room testing out our new loudspeaker/amplifier system to it's fullest volume, until the sofa shook and smoke started coming from one of the speakers; they're all right then! Fortunately our next door neighbour, Steve, seemed to be away (or maybe we drove him away).   We ate a wonderful tagine, drank many a bottle of good wine and just caught up on the things that I'd missed out on over the previous weeks – simply being with my closest family. It was great, but by about eleven o'clock I was fading fast and we went to bed.
---
Monday 28th March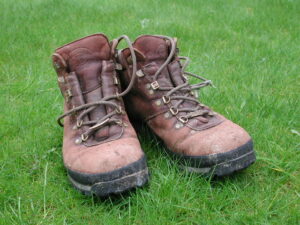 Still not a good night's sleep and I awoke at about five o'clock again, continued writing for a few hours until, at about nine am, Noelene, dawn, Jon and Alex rose and we went for a spiffin' breakfast at Morrison's supermarket café!   Later, on our own, we busied ourselves with sorting out the press cuttings, people I had to phone and thank and didn't do a great deal at all. It was great.
Marika from GMTV came around, after I'd contacted them to say that I would do a couple of short interviews on the Tuesday morning programme. She went through what she thought would be a few good ideas, asked me to dress in my good old Cambridge Folk Festival hat and the disgusting, unwashed, Rolling Stones tour tee shirt that I'd worn during my five days of walkabout.
I photographed my Brasher walking boots for posterity. After all they'd only taken me in the direction in which I'd pointed them and they certainly hadn't let me down!
---
Tuesday 29th March
This morning we both awoke at about five o'clock, as GMTV were expected at half past. Alan the cameraman arrived shortly before, followed by Geoff the sound recordist and Sean, in charge of the communications truck, turned up not long after. They set themselves up in our dining room, by now familiar with being used as a makeshift studio. The producer had apparently asked for as many plants as possible to be in the shot to give a "jungly atmosphere".   I'm not sure exactly what Alan thought but I could see that he was as bemused as we were. Nevertheless we did as we were told. The first interview was with John Stapleton at quarter to six and I must admit that I felt a little down and unsure about it. It was broadcast live and I didn't think it went to well but when we looked at the recording of it later it seemed to be okay. Alan was pleased and the faceless but friendly producer in London said that it had been very good.
Just after half past eight we did the second interview with Kate Garraway, this time in the garden (it was freezing, not like the jungle at all!) and, in my mind, it went rather better with even a joke or two (or at least a couple of irreverent moments) creeping in. Again, the producer expressed his satisfaction, the recording I'd done looked rather good and the guys packed up and left.
I went to work, endured the cringing jokes ("would you like me to show you the way to your office") told the tale several times to all and sundry and went to the pub with the guys and gals for lunch. I started doing some actual work but there were all sorts of "best wishes", "glad to have you back", "welcome home", etc. e-mails. I also saw the mails that had been sent out by our MD when I was lost; I realised just how concerned so many people had been for me and once again felt very contrite.
The Northwich Chronicle (the local newspaper for the area where my company is located) got in touch and did a short interview with our MD and a longer one with me. But I guess that, by now, I was old news because when I saw the paper the next day they hadn't published anything and I was grateful that my "15 minutes of fame" appeared to be over at last (In fact a full front page and inside page piece was published the following day).   As the afternoon went on I became very tired and finally went home at about four o'clock. In the evening, Noelene and I went with Graham and Anne and their French friends Janine and Charlo to the Durbar Restaurant in Manchester's Rusholme Indian area. We had an excellent curry and a beer or two but by about nine thirty I was flagging again so we went home and to bed.
---
Wednesday 30th March
It's now a week since I was rescued and I'm getting back to normal. I had about seven hours sleep last night and I'm revelling in the "mundanity" of everyday working life. All those annoying little jobs that I hated doing in the past I'm now approaching with relish. I think that my story is just about complete. It has been the most exciting, dangerous, frightening and, at times lonely, ten days in my life. I will, of course, remember it for the rest of my days and hope that the lessons that I learnt and the changes in my life that it has brought about will similarly stay with me.
I had most truly been a very Stupid White Man!
---
The Texts
(Latest first)
Sent 27-03-05 17:53.  From +60129680125.  Dear mr gillart, we r glat that u safely arrived home.  Thanx for ur call few mins. Ago to let us know abt ur arrival.  T/care-maya  (1.)
Sent 27-03-05 17:28.  From Dawn mobile.  Check in time overdue.  (2.)
Sent 27-03-05 17:23.  From Dawn mobile.  What r ure co ordinates?   (3.)
Sent 26-03-05 11:22.  From Claire mobile.  Ello, hope u had a nice sleep!  We re going 2c the bog people 2day! Hope u have a good day luv u always bella xx  (4.)
To: Claire mobile.  Thank u sweetheart Love Jungle Pops Xxx Night, night sleep tight don't let the bed bugs bite <if they do have a poo and put it in a Cornish stew!> love you, Claire Jx x xJ  (J2.)
Sent 25-03-05 22:15.  From Claire mobile.  Night, night sleep tight don't let the bed bugs bit <if hey do have a poo and put it in a Cornish stew!> lov you, Claire Jx x xJ  (5.)
In 25-03-05 20:01.  From: Mel Well bloody hell their's me living it up in bowness just have a look at the evening news and two of my crazyest clients are on the front cover so glad you are ok love your super hairdresser Melanie and family xx happy easter x x hair looks good Noelene .)x  (N1)
To: +60162577001.  Hi Janet home safe n sound tnx 4 everything will call from work of Tue.  Jungle John!   (J1.)
Sent 25-03-05 14:42.  From +60162577001.  hi John, wld appreciate if u cld sms me when u arrvd home safely.  Happy easter! Janet  (6.)
In 25-03-05 10:39.  Robert Gillatt.  So pleased you are safe and well.  Speak to you very soon.  Love from us all,  (N2)
In 24-03-05 09:13.  From Dawn mobile.  Its just been on radio one  (N3).
Sent 24-03-05 08:37.  From:  Helen mobile.  Thank God yr safe.  Keith said there is a lot of Grandma's traits in you!  You will b tagged on our walks in Cornwall.  Safe journey home.  Luv Helenxx  (7.)
To: Dawn Mobile.  Must be telepathy, just checking newspapers.  Also check new straits times.  He is at kl hotel & I'm waiting hgm to call back. Xxx  (N1.)
In  24-03-05 07:32.  From Dawn mobile.  Just saw a news report online the star online that has a lovely picture of him smiling.  Any news of flight yet?  Dawn X  (N4.)
Sent 24-03-05 06:39.  Received on Noelene Mobile & forwarded.  To: John Gillatt.  Great to hear from u Tarzan! Glad to hear you're safe and well.  Please don't do that again!  See u soon.  Love always Ali and Graham xxx  (2.) (8.)
In 24-03-05 06:29.  From +447766811938 Great to hear from u Tarzan!  Glad to hear you're safe and well.  Please don't do that again!  See u soon .  Love  always Ali and Graham xxx  (N5.)
Sent 24-03-05 01:09.  3.  From Chris Priestley to Noelene Gillatt Forwarded to John.  To: John Gillatt.  Do you know the fucking trouble you have caused tosser!  Pleased you are ok and not dead! Was concerned about my beer stocks.  Read you have found the lord! Cjp  (9.)
In 24-03-05 01:06.  From +44832722218.  Do you know the fucking trouble you have caused tosser!  Pleased you are ok and not dead!  Was concerned about my beer stocks.  Read you have found the lord!  (N6.)
Forwarded message:  To:  0783672218.  My darlings n friends my batry about dead how will I sleep in a bed after 4 nights under stars your love got me through love you all Pooh/Pops?John XXX  (N4.)
To Janet mobile.  My darlings n friends my batry about dead how will I sleep in a bed after 4 nights under stars your love got me through love you all Pooh/Pops/John XXX  (J5.)
In 24-03-05 00:02.  To Kev.  My darlings n friends my batry about dead how will I sleep in a bed after 4 nights under stars your love got me through love you all Pooh/Pops/John XXX  (N7) (J4.
In 23-03-05  23:10.  From Michelle Sheree.  I don't want to ring just in case u are still waiting to hear news about John.  Just wanted to let u kno im thinking about u and hope john is home soon.  Michelle x  (N8.)
To: Michelle Sheree.  Hi Michelle, John was found at 6:45 this am & is doing well.  Ive been able to speak to him.  We're now trying to get him on the earliest avail flight home.  Thanks for good thought.  It's only just sinking in! c u soon.  Noelene  (N25.)
Sent 23-03-05 11:51.  From +60162577001,  hi John, pls hang on n b tough.  May God b wth u always!  (10.)
Sent 23-03-05 09:26.  From: Claire mobile.  J They've found my dadday! Ello u hope u enjoy the heilcopter ride!.  My love always + for ever Claire a bella xxxJ  (11.)
Sent 23-03-05 08:46. To: John Mobile.  You stupid bastard! It could only happen to you.  Dawn Claire Anne Graham here + concur + big love. Huge family + friends thoughts XXX ? u top this? Xxxxxx  (12.)    26.
Sent 23-03-05 07:01.  From Dawn mobile.  So glad 2 hear u have been found.  We all love u loads.  Dawn jon and alex.  Xx  (13.)
Sent 23-03-05 00:19..  To: John-mobile.  8am Wednesday.  Locals being involved + widening search area commandos + dogs + aircraft + police +++. XXX N D C etc  (14.)  5
Sent 22-03-05 02:03..  To John-mobile Commandos, airforce + dogs out today! Keep yr pecker up XXX  (15.)  6
Sent 21-03-05 12:44.  To John-mobile.  Commando unit of 30 searching through night.  Airplane up at first light.  Family & friends love!  XXX N D C  (16.) 7.
Sent 21-03-05 05:52.  To: John-mobile.  Embassy involved.  U need to stay at stream.  Goughies here.  How R U XXX  (17.)    8.
Sent 21-03-05 02:43.  To: John mobile.  Brill! Xxx  (18.) 9.
In 21-03-05 02:40.  To: Noelene mobile.  Found stream but totally enclosed will follow it downstream a bit don't have to drink the piss now will lose mobile contact got other messages all my love all XXX  (J3.)
Sent 21-03-05 02:08.  John-mobile.  Girls send love + xxx  (19.)  10.
Sent 21-03-05 01:19.  To John-mobile.  Told embasy + rescue.  Rescue starts half hour.  They want u to stay by stream + wait 4 them xxx  (20.)    11.
In 21-03-05 00:26.    To Noelene mobile.  OK but v hard path and no contact for hrs did u ask re mobile fone cos? Xxx,  Go! Xxx  (N9.)  (J6.
Sent 21-03-05 00:13.  To John-mobile.  Go! Xxx  (21.)  12.
Sent 21-03-05 00:05.    To: John-mobile.  Will do.  Keep trying! Xxx  (22.) 13.
In 21-03-05 00:10.  To Noelene mobile.  Sticks not work no compass no sun are they OK that I go for h2o batry @ 20% xxx  (N10.)  (J7.
In 20-03-05 23:46.    To Noelene mobile.  Tried that yday no success can they find my location via mobile fone co MAXIS or CELCOM Have told rescuer. They want u to make small fire.  Use compass or stocks.  Xxx  (N11.)  (J9.
Sent 20-03-05 23:36.    To: John-mobile.  Have told rescuer.  They want u to make small fire.  Use compass or sticks.  Xxx  (23.)  14.
In 20-03-05 23:14.  To Noelene mobile.  Am ok wont go 4 h2o til after yr 8am txt XXX  (N12) (J8.
Sent 20-03-5 23:10.  To Rescuer Going for h2o for 2/3 hrs will return here or another plac where fone works saw red flashing light on hill some km away maybe to my E pls tell rcuer also tell brit high commission in KL I love U XXX  (N13.)  (J10.
Sent 20-03-05 22:45.  To John-mobile.  R U ok?  Turn off REQUEST REPLY function.  Wasting battery!  Will txt when spoken to rescue team 8am xxx  (24.)  15.
In 20-03-05 12:06. To Noelene mobile.  Tnx xxx Have spoken to hotel 7:15.  Search party being called off for tonight – too dark.  But will be bigger group tomorrow.  Will try to speak to team leader on his return! Chin up xxxx  (N14.) (J11.
In 20-03-05 12:04.    To Noelene mobile.  Its dark so gon 2 bed up @ 7 must get h2o  I love u Xxx  (N15) (J12.
Sent 20-03-05 11:29.    To John-mobile.  Have spoken to hotel 7:15.  Search party being called off for tonight – too dark.  But will be bigger group tomorrow.  Will try to speak to team leader on his return!  Chin up xxxx  (25.)  16.
In  20-03-05 11:04.  To Noelene mobile.  OK Xxx  Will do but only getting their voicemail + leaving message.  Will also phone hotel.  Check yr message at 8  (N16.)  (J13.
Sent 20-03-05 11:02. To John-mobile.  Will do but only getting their voicemail + leaving message.  Will also phone hotel.  Check yr message at 8  (26.)  17.
Sent 20-03-05 10:07.  To Rescuer  Phone on for 15 min each hr on the hr off from 20:00 to 07:00 pls tell r'cuer XXX  (J14.) (N17.)
Sent 20-03-05 09:15. To John-mobile.  Ok  (18.) (27.)
In 20-03-05 09:14.  To: Noelene mobile.  Batry dwn to 25 pc turning off till 6 pls try to phone rescuer  (N18.) (J15.)
To Rescuer.  From top of Pine Tree Hill I walked for 5 hrs along a stream which became a river stayed o'night  today walked for 5 hrs to the right side of the river John  (J16.)
Sent 20-03-05 08:54.  To John-mobile  Do they know where u r N  (28.)  (19.)
In 20-03-05 08:51.  To Noelene mobile.  But do they know u r ??  (J17.) (19.)
Sent 20-03-05 08:50. To John-mobile.  But do they know u r  (20.) (29.)
Sent 20-03-05 08:47.    To Rescuer Just spoke to rescuer gave all they info theyre miles away  (N20.)  (J18.)
Sent 20-03-05 08:42.  To John-mobile. OK  (30.)  (21.)
Sent 20-03-05 08:40. To: John Gillatt & 0060139831633.  Bubs try to think of ways u can help the rescuers.  Like how far into walking did u realize u re lost?  In which direction? When did u meet up with stream? How long did u follow it for? Where did u sleep? Which direction did u take when parting ways? Did go uphill at this point + in direction? Etc.  Text answers to both me + rescuer mobile.  Lv u!  (31.)
To Rescuer.  Can you get my location via MY MAXIS John  (J19.)
In 20-03-05 08:15.  To: Noelene mobile  Cld u pls phone Kev at home n ask him to get a msg to kew that I prob wont be back in KL tilt morrow pm will prob miss ICI  (N21.)  (J20.)
Sent 20-03-05 07:49.  To John-mobile.  Tried phoning several times R U ok? What do u want me to do?  Have u moved? Text me to conserve battery(32.) (33/22.)
In 20-03-05 07:45.    To: Noelene mobile  Hi Babes pls try texting me phone rings but cant pick up call or make them (N22.)  (J21.)
In 20-03-05.  07:32.    To Noelene mobile.  Pls call me Ive a phone prob (N23.) (J24.)
To Rescuer  Checking that I have your correct number  John Gillatt (J25.)
In 20-03-05 03:52.   To Noelene mobile.  They need to call 00447717220942 XXX (N24.) (J26.)
In 11-03-05.  13:36.  To: Noelene mobile.  Thai chicken n rice by Central Mkt.  Yummy!!  Off to bed now.  I love you beyond belief.  Poohie XXX (N25.) (J22.)
In 11-03-05 08:19.    To Noelene mobile.  Hi Babes, Arrived safe n' sound, on train at present.  WSill phone from hotel.  Xxxx (N26) (J23.)
To John-mobile.  Hi Babes, Bon Voyage! Keep J Love U always.  Poohette (N24.)
NOTES:
Noelene's Phone (N followed by number)
Number is that checked against John's phone for send information
John's phone (J followed by number)
And from my Australian colleagues!!