John's Saint Cuthbert's Way – September 2019
So, for the uninitiated, the St. Cuthbert's way (named after the Saint of the same name!) is a 'short' long distance footpath going from Melrose in the Scottish Borders via a host of small towns and villages, most of which you'll have never heard (apart from Jedburgh maybe), to Lindisfarne or Holy Island, off the Northumberland coast.  It's officially 60 ml (100 km) long but I managed to 'stretch it out', with some cunning navigation, to 74 ml (118 km)!

My Itinerary
| | | | |
| --- | --- | --- | --- |
| Day 1 | Friday 5th September 2019 | Melrose to Jedburgh | 21.03 ml (33.65 km) |
| Day 2 | Saturday 6th September 2019 | Jedburgh to Kirk Yetholme | 18.14 ml (29.03 km) |
| Day 3 | Sunday 7th September 2019 | Kirk Yetholme to East Horton (almost via Kirknewton!) | 19.81 ml (31.71 km) |
| Day 4 | Monday 8th September 2019 | East Horton to Lindisfarne (via the Pilgrims route) | 14.80 ml (23.69 km) |
Why the St. Cuthbert's Way?
Well, why not?  I'd not walked any long-distance footpaths since the  West Highland Way in 2013 and, now a septuagenarian, I wanted to make sure that the old legs still had it! 
The walk was originally a birthday present from Noelene about four years ago and it was planned to make it a winter walk, staying in pubs with roaring log fires, great ales, etc.  I think you get the idea.  Well, circumstances delayed and delayed it and the idea of a winter walk across southern Scotland and Northumberland, with the sort of weather which that part of the country 'enjoys' at that time of the year was just a little off putting.  Several friends, including Graham and Julie and Alan Simkin from the CHA Ramblers, had done the walk and everyone had said that it's 'wonderful', 'beautiful', 'you'll enjoy it'.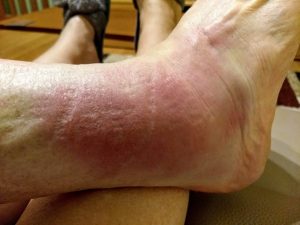 And, do you know what, they were bloody well right.  It was brilliant.
I'd originally planned to do the SCW in July but, on a training walk over Pendle Hill and along the River Ribble a few weeks earlier I badly twisted my right ankle so had to postpone it for about six weeks, especially as I wanted to walk across the sands to Lindisfarne following the Pilgrim's route rather than traverse the causeway and therefore had to take account of the tide times.
Finding My Way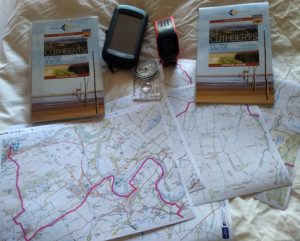 Due to being 'navigationally challenged' I downloaded the .gpx file of the route from the LDWA website and uploaded it to my Garmin Montana 680t GPS (thank you former Thor colleagues for this wonderful retirement pressie ?), printed out the 25k OS maps of the route, took at least one compass, my GPS watch to plot the route (just in case) packed my trusty Moto G5 mobile phone, added the official St. Cuthbert's Way guide, had myself chipped, put a large ball of string in my rucksack and headed for the hills! 
This boy wasn't going to get lost!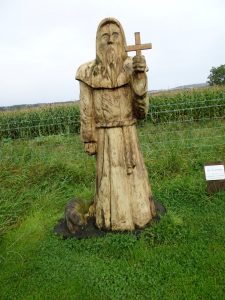 A Bit About St. Cuthbert
You can read loads about St. Cuthbert and his life in the official footpath guide or online.  Suffice to say that he was originally a monk at Melrose Abbey in the mid-7th century and later the Prior there.  He eventually became Bishop of Lindisfarne where he was buried on his death.  When his coffin was opened 11 years later his body was found to be perfectly preserved and, because of that, he was eventually declared a Saint.  The monks then carried his remains around northern England and western Scotland for the next eight years, presumably to convince the unbelievers of the power of prayer!
Thursday 4th September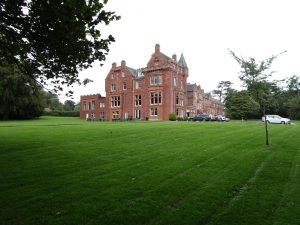 It took about 3½ hours to drive up the M6, A7 and a host of smaller and smaller roads to the 'rather posh Dryburgh Abbey Hotel where we spent the pre-walk night.  Following afternoon tea – one just HAS to do it – we took a wander down to the very fast flowing River Tweed and peered over the wall at the Abbey (it was closed).
It was at this stage that I thought I ought to take a look at the route I was due to walk the following day – from Melrose to Jedburgh, about 21 miles.  So, essentially, we had to drive from the hotel into Melrose so that I could then walk back to Dryburgh Abbey and on to Jedburgh.  Yes, that was sensible wasn't it?  I was also feeling a bit trepidatious as I hadn't walked more than 10 miles since twisting my ankle and tomorrow's walk was going to be twice that.
However, we enjoyed our evening with a fine, though appropriately pricey, meal with a couple of decent bottled local ales as there were none on draught (black mark Dryburgh Abbey Hotel!).
Then to sleep, perchance to dream……..
[Slideshow "day0" not found]